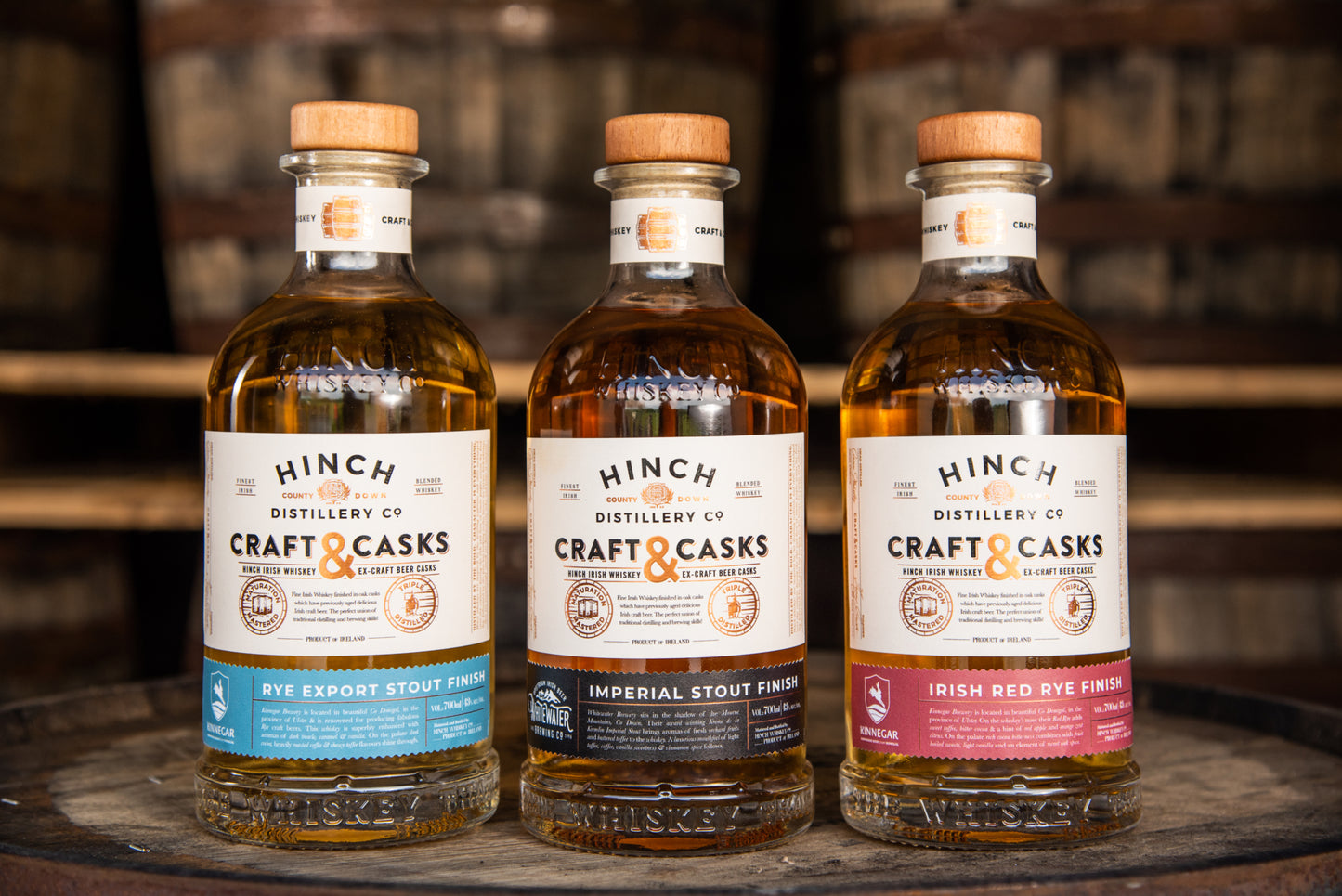 A collaboration of the craftsmanship of Hinch Whiskey and the unique flavour of the Irish craft brewing scene is a new union at Hinch Distillery, which has spawned three new whiskies.
The collection, known as Craft & Casks includes the Imperial Stout Finish, Irish Red Rye Finish and Rye Export Stout Finish which are disrupting the taste profile of the whiskey scene.
Using casks from two Ulster breweries; Whitewater Brewery in Co Down and Kinnegar Brewery in Co Donegal, the three aged whiskeys have their own distinct flavours.
The Imperial Stout Finish hails from Co Down, sitting in the shadows of the Mourne Mountains. Its Kreme de la Kremlin Imperial Stout brings orchard fruits and butter toffee tastes to the whiskey in what the distillery describes as a "luxurious mouthfeel of light toffee, coffee, vanilla sweetness and cinnamon spice follows".
Meanwhile, the Irish Red Rye Finish and Rye Export Stout Finish are finished in Kinnegar Brewery beer casks boasting their own unique flavour profiles. This includes sweet toffee, bitter cocoa and a hint of red apple and orange zest citrus derived from Red Rye casks while the Export Stout Finish flaunts aromas of dark treacle, caramel and vanilla.
A modern and bold move for the whiskey lovers, the launch widens the growing portfolio at the distillery.
It brings its collection of whiskeys to nine variants and follows on from the distillery's release of an 18 year old Single Malt finished in Château de la Ligne Grand Reserve wine casks ahead of Christmas 2020.
Speaking about the new labels, Head Distiller Aaron Flaherty said: "Our new Craft & Casks range is a delectable partnership between Hinch Distillery and two Irish craft breweries, which produces three distinctly flavoured beer barrel aged whiskeys.
"The union of whiskey with craft beer barrels is an emerging trend within the distilling industry and demand is surging. While Hinch is a relatively new name to the drinks' fraternity, we have quickly risen to a par with the best around, beckoning prestigious awards in our two years of operation.
"We are a recognised player in the whiskey scene globally and we always strive to be innovative in the whiskeys we create whilst paying attention to current trends in the category.
"It's not news to those in the whiskey business that beer and whiskey are a natural fit and the boilermaker is a classic bar order. Our Craft & Casks take that trend one step further."
Hinch Distillery Chairman Dr Terry Cross OBE said: "Despite not being able to open our public offering fully at the distillery, we've continued to develop our offering, expand our portfolio, win awards and sign major deals with distributors worldwide in the shadows of what has been a very challenging economic climate and our Craft & Casks collection is just a part of this.
"The popularity of whiskeys is soaring, as too is demand for new and bold offerings, and this is exactly what this new taste profile provides. Some of the whiskey sector's biggest household names are benefitting from this innovation drive."