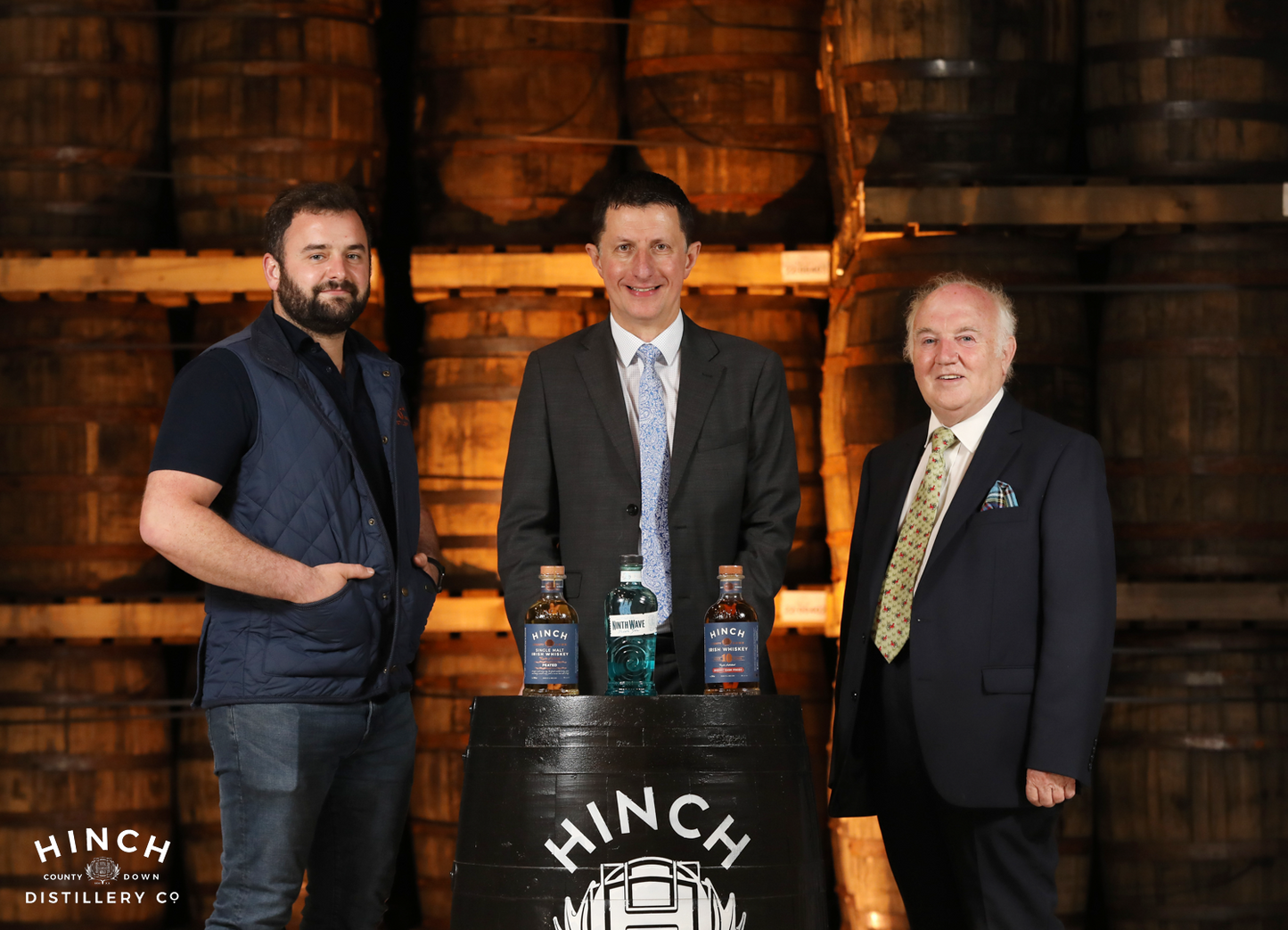 Tourism NI funding takes Hinch to the next level as we celebrate the construction of a £500,000 maturation warehouse.
The warehouse will form the concluding element of our Visitors Centre Experience and showcase the art and craft that goes into maturing an Irish whiskey
We have received funding from Tourism NI to support the construction of the final element of our visitors' experience — a maturation warehouse.
The £500,000 warehouse will conclude the tour of the distillery which already incorporates the individual steps of the distilling process; from the Ingredients Room, Mash House, Still House, Spectrum Room and a sampling room (designed by the same team behind New York's Dead Rabbit).
Now, thanks to new funding we are able to ramp up our tour and conclude with one of the most important parts of Irish whiskey production — the maturation process.
The maturation experience will illustrate the effect of ageing new make spirit and in particular our approach to wood management and scale.
A significant number of distilleries here do not have maturation on site making the construction of this area a massive coup for Northern Ireland's tourism offering.
Speaking about the new maturation warehouse, Dr Terry Cross OBE, Chairman at Hinch Distillery, said:
"We are very pleased to announce the next phase of our Distillery and Visitors Centre Experience. The maturation process is a very important part of the tour and the whiskey process."
"This space will afford visitors the ability to see our distilled product maturing on site, and to see the various cask finishes, scale of production and investment in liquid and casks while enhancing the visitors' sense of being part of the process. It helps complete the visitor centre tour and offers a point of differentiation that is hard to find anywhere else in Northern Ireland.
"We would like to thank Tourism NI for their continued support in our project; from its inception to its development and now helping us mature alongside our whiskeys! This element of the tour aligns with the Northern Ireland Embrace a Giant Spirit brand, offering visitors unforgettable experiences. Hinch Distillery is a brand that truly values its rich heritage."
David Roberts, Director of Strategic Development at Tourism NI, said:
"We are delighted to work with Hinch Distillery to help grow its tourism offering. We have offered them £200,000 of support under the Experience Development Programme 2020-2021, which has helped with the construction and fit out costs relating to the Hinch Distillery Visitor Centre Experience.
"The completion of the Maturation Warehouse will add another important dimension to the whiskey tour experience which is attracting domestic and international visitors. The distillery and visitor centre adds to Northern Ireland's growing drinks tourism industry with its distinct product offering and customer experience. This is something that Terry and his team should all be proud of."