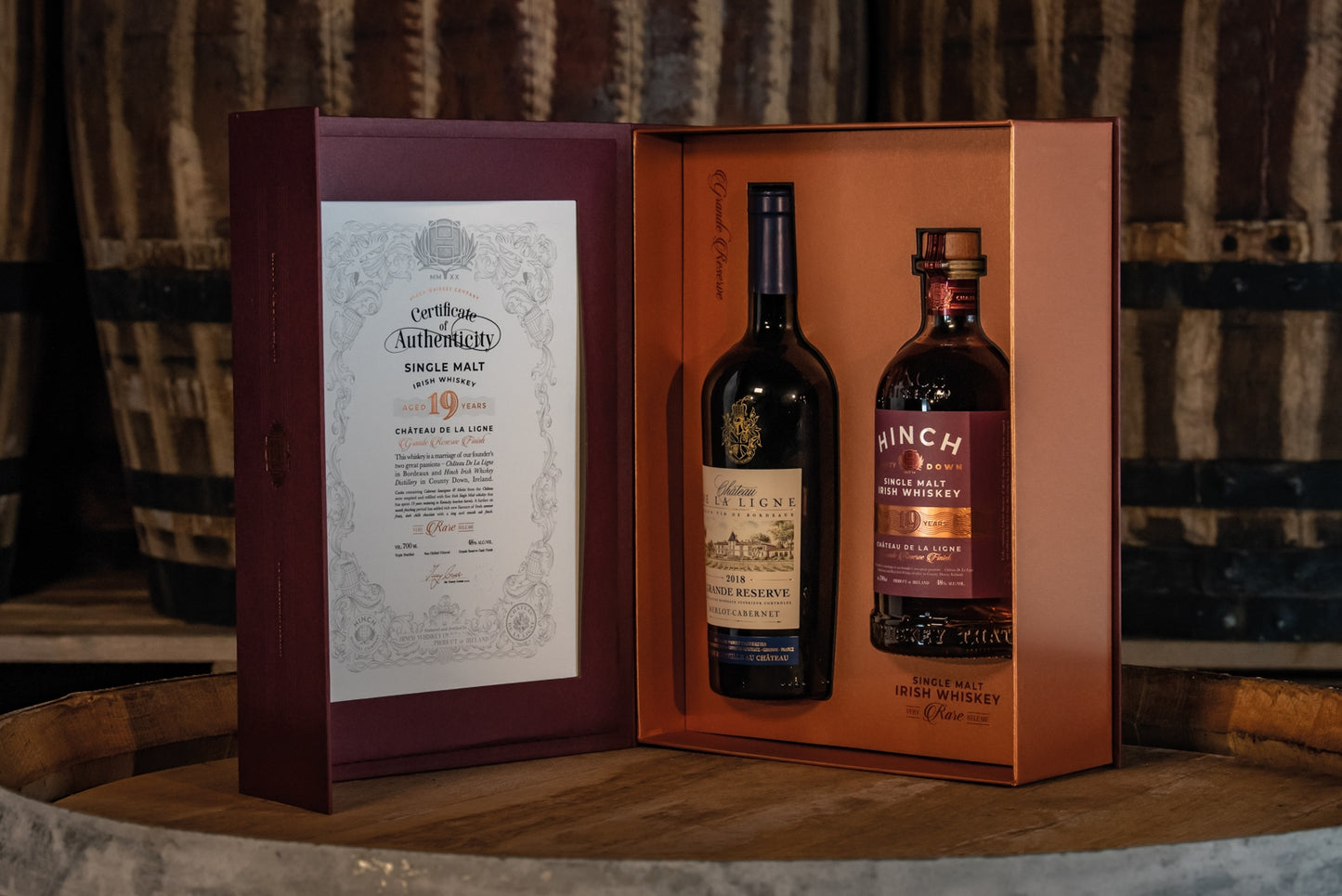 Hinch Irish Whiskey – 19 Year Old Single Malt, Château De La Ligne Grande Reserve Finish

This Gift Presentation Box is a marriage of our founder Terry Cross's two great passions – Hinch Irish Whiskey Distillery in County Down, Ireland and Château De La Ligne in Bordeaux, France.

This very rare release sees the production of just 1750 bottles.

Casks containing the Château's Grande Reserve, both Cabernet Sauvignon & Merlot, were emptied and refilled with fine Irish Single Malt whiskey that has spent 19 years maturing in Kentucky bourbon barrels. The addition of a further six month finishing period in the Grande Reserve wine casks has delivered this majestic whiskey for you to enjoy. We felt it would only be fair to also include, for your enjoyment, a bottle of the Chateau de la Ligne Grande Reserve which has played such an important role in our 19 Year Old Single Malt.

Tasting notes - 19 Year Old Whiskey
Appearance - Deep & luscious ruby red.
Nose - Red summer berries, plum and apple in abundance. Bright, fresh fruit aromas, with a delicate touch of confectioners red liquorice.
Taste - Toffee, caramel and dark cocoa are elevated by a backbone of sweet vanillins and freshly toasted oak. Nuanced touches of red apple, plum and summer berries clearly represent the influences of the wine finish. On the palate this whiskey delivers a multitude of differing layers of flavour all of which are individually both sumptuous and extremely moreish. The 19 years of initial ageing adds huge depth to the overall flavour profile of this superb whiskey. The chorus of influences brought to bear from its finishing in Chateau de la Ligne Grande Reserve casks elevates the already superb into becoming the absolutely sublime.

Tasting Notes – Chateau de la Ligne Grande Reserve 2018
Appellation - AOC Bordeaux Supérieur
Tasting Notes - With a deep and sustained red colour, the Grande Réserve develops aromas of fleshy red fruits with exotic notes of vanilla and sweet spices. The attack on the palate is frank and full with coated tannins, which reveals notes of tobacco. It is a very balanced wine where the notes of fruit and spices harmonize and leave themselves to be desired on a long and intense finish.
Age of vines - 18 years
Aging & Abv - 12 months in oak barrels & 14.5% abv.